10,000+ Students Served-Thank You!
Celebrating 4 Years of Impact
The Beginning 
October 2020 marks 4 years of impact for Pathway to Purpose. We would like to thank you and invite you to join in celebrating Pathway to Purpose (P2P), 4 Year Anniversary! In 2016, Samantha Sinclair was starting a PhD program in Higher Education and was also inspired to start a business to help students tackle the many college preparation challenges they were facing.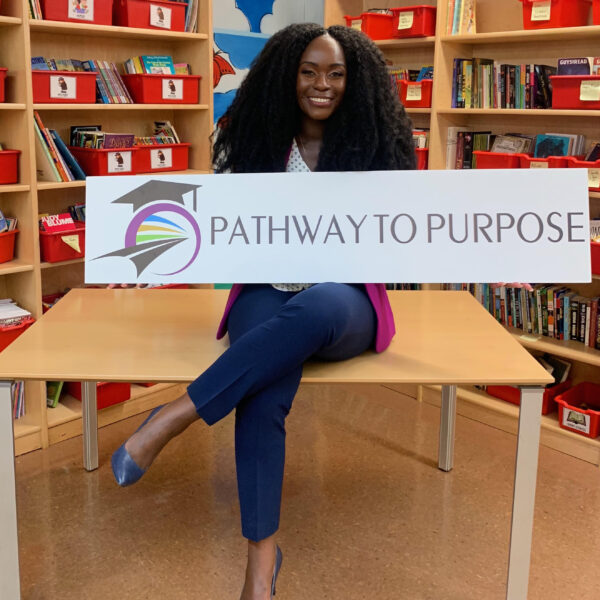 The Impact
Although Samantha's vision was clear, the road to making it happen was uncertain. The Founder and CEO stated "in year one, my goal for Pathway to Purpose was to provide students with the opportunity to explore college options beyond New York City through college tours."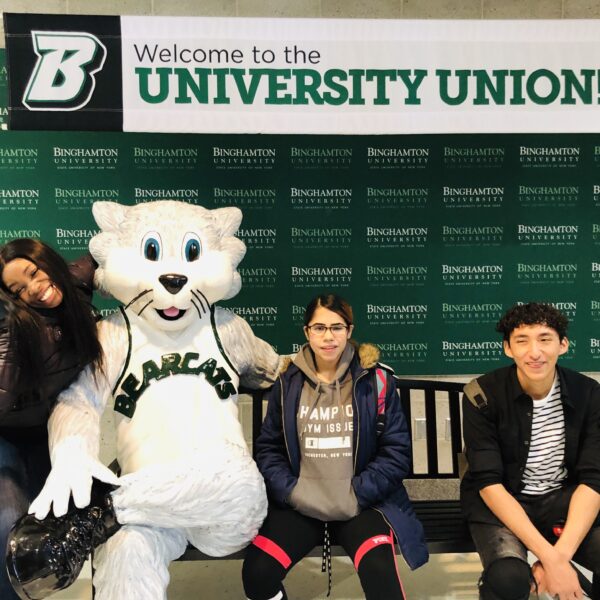 Fast forward 4 years later and Pathway to Purpose has impacted the college preparedness of more than 10,000+ Department of Education students, serving students and families of all races, cultures and socioeconomic backgrounds in 23 school districts across 48 different partner schools in New York City.


The Gratitude
The cornerstone of Pathway to Purpose success is a team culture that is supercharged with passion, laced with affirmations and laser focused on engaging, energizing and empowering students. In celebration, we would like to thank the over 50 P2P event volunteers, inclusive of college students, recent college graduates, admissions representatives and professionals who took time out of their day to pay it forward. Lastly, we would like to thank every school administrator, College Access team member, guidance counselor, teacher and parent coordinator from our partner schools who have worked diligently to ensure our collaborations to enhance the college-going culture of each school was truly a team effort.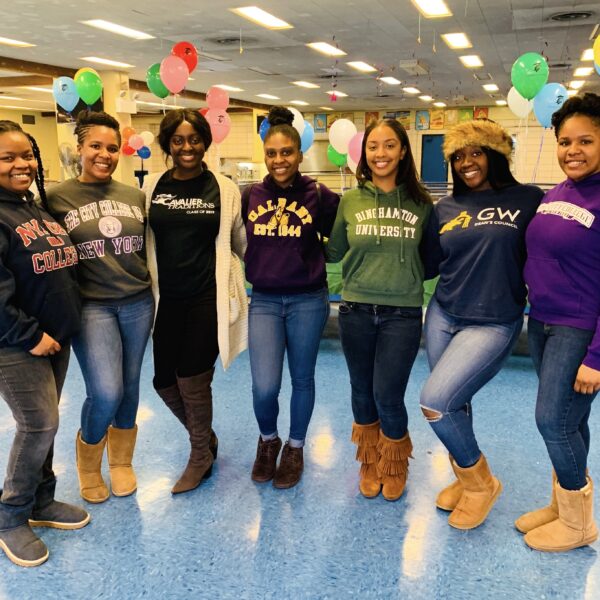 The Sentiment
Over the years Pathway to Purpose has received such positive feedback from students, parents, principals and school staff. We would like to highlight this summary from Tiffany Braby, a teacher at MS 319 which speaks volumes about our team's approach to impacting student college achievement. "I don't often get inspired to write lengthy emails but when I do, it's usually late at night when I should be sleeping! Rather tonight, I'm reflecting on my utmost respect and appreciation for the two of you (and of course, Samantha).  I tell Samantha often how appreciative I am of her but I don't feel like I have expressed it enough to the 2 of you.  My relationship with each of you is very different but your relationship with my students is unique, unmatched by any other.  The most important aspect of my career is making a difference in my student's lives, something that each of you have managed to do in such a short period of time.  Katheleen, for being the solid, sincere, and dependable role model for over a year now and Miguel for jumping in with the utmost professionalism and treating the kids as if you have known them forever.  You both serve as kind, caring stand up role models for the students. For that, I am so grateful. I thank you for giving my students your time, once again, today! It meant the world to us in so many different ways- primarily, it brought back a bit of "normalcy" for the kids even if it was virtual.  If you want to "virtual" visit with us again in the near future, know that I am always open to it.  Same time, same place. From the bottom to the top of my heart- thank you all for all that you have done and continue to do for the students of New York City!"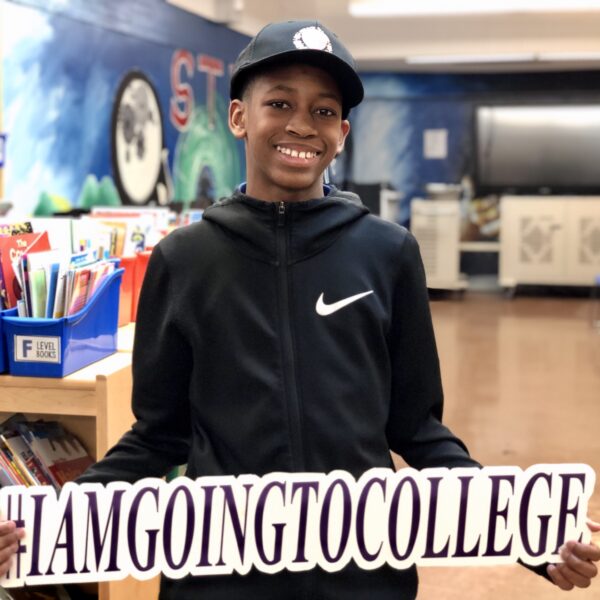 The Path Forward
No doubt the unforeseen pandemic has shaken our education community and put students ability to adequately receive college prep services at risk. However at Pathway to Purpose we truly believe that "every problem is an opportunity in disguise." By choosing to innovate we have doubled down on our efforts to ensure every middle and high school administrator and families have the tools to keep college prep a priority for students. We have transitioned all of our college prep, student, parent and staff development workshops to an online virtual delivery. Additionally, in April of 2020 amidst the pandemic we launched the Pathway To Purpose "College Study Flashcards". The College Study Flashcards are 5 decks of flashcards created to help students prepare for college. The flashcards are designed to empower students, parents and school leaders nationwide. The categories include: Financial Aid, Types of Colleges, Affirmations, Entrepreneur and College Resources. We are honored to pioneer this first of its kind innovation to help middle and high school students with their college preparation at home, at school or on the go. With the future of in-school learning still uncertain one thing is clear. Our students have shown tremendous resiliency and we must continue to provide them with the best resources to help light their path ahead. We believe it takes a community to help students access a quality education. As stakeholders, we share equal responsibility in helping students meet college & career success. Over the last 4 years we have partnered together to impact 10,000+ students, over the next 4+  years, we look forward to your partnership in helping to impact 1,000,000 students through our College Study Flashcards.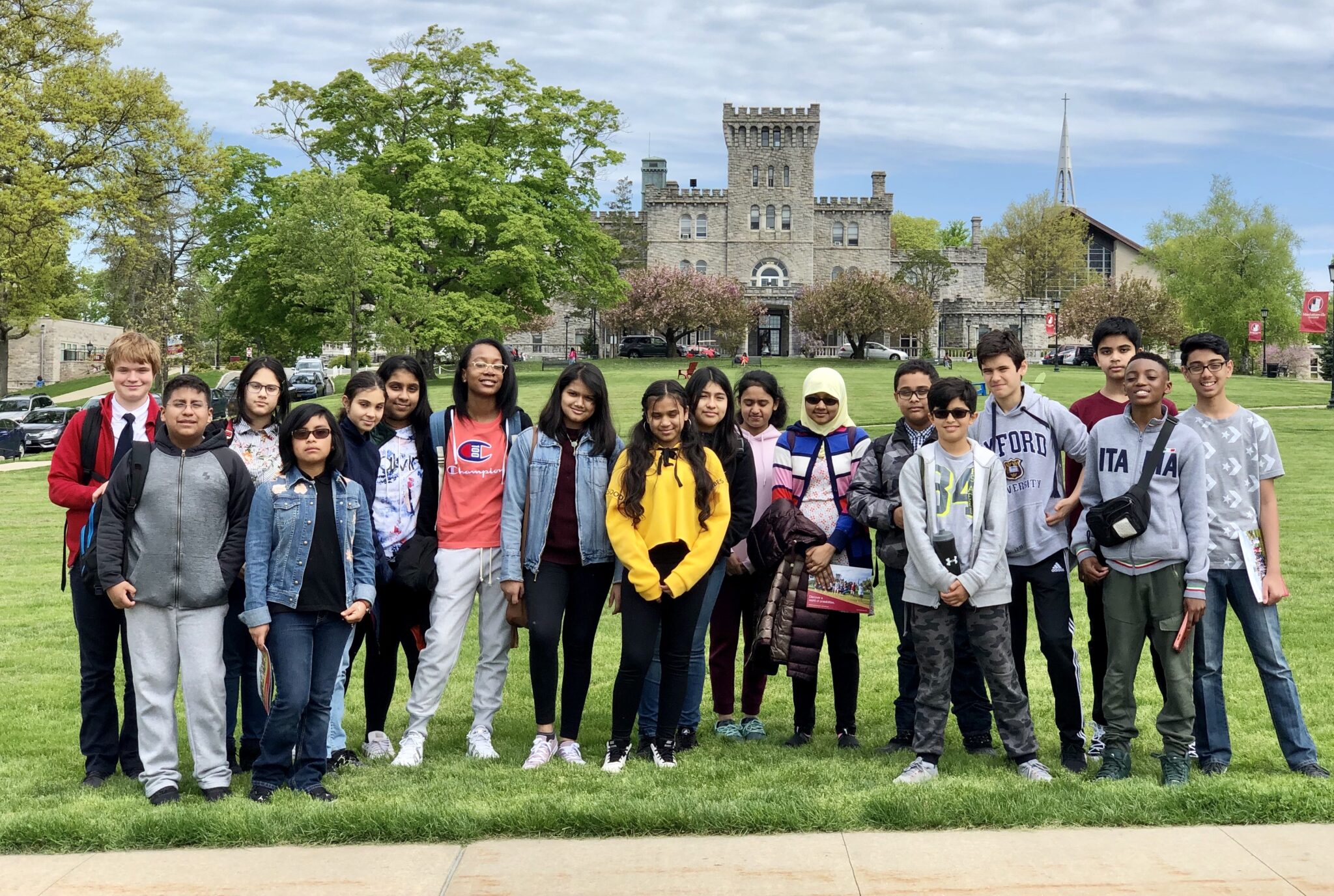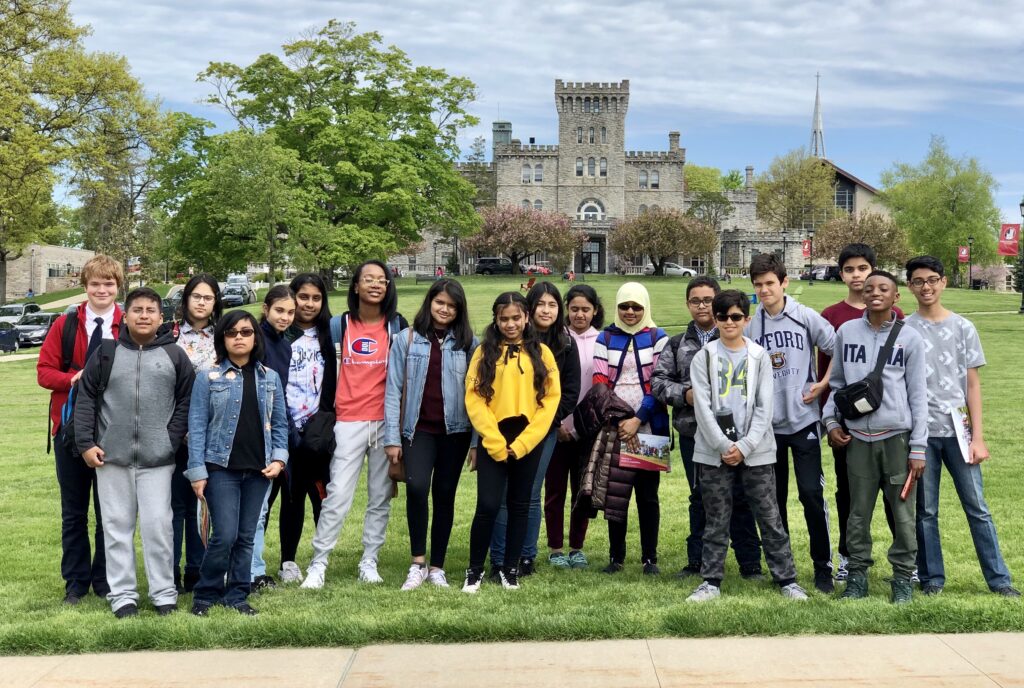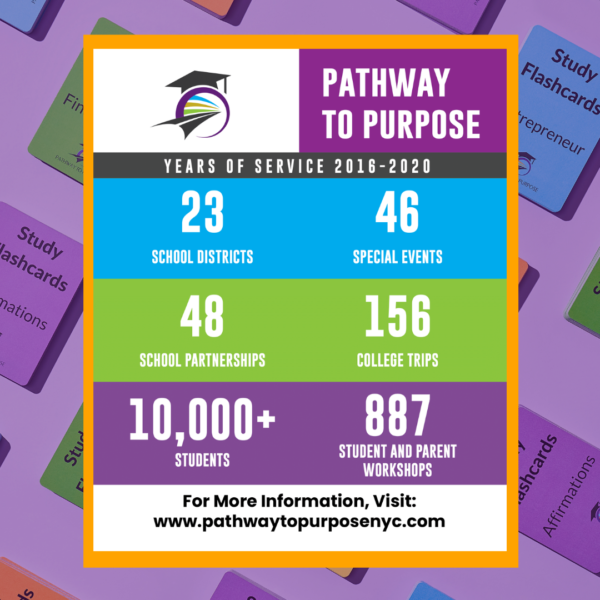 Happy 4th Anniversary Pathway To Purpose!
Check out our 4 year service recap of working with 23 school districts, across 48 schools, impacting over 10,000 students!
Join Our Community for College Prep Tips and Resources!
Use the form below to receive updates.